TOSE Creates Wide-Ranging Content from Home Video Game Software to Smartphone Apps
To date, TOSE has been involved in the development of approximately 2,300 home video game software and mobile content titles. Although we are not permitted to reveal specific titles due to confidentiality agreements with customers, it is likely that you have played a video game once or twice in which TOSE was involved in development.

TOSE Is a Commissioned Digital Content Developer for Customers in Diverse Fields Such as Game Software Publishers
Upon commission from such customers as video game software publishers and content providers, TOSE plans, develops and operates game content and earns revenue from these deliverables and services. As an independent, proposal-oriented commissioned developer, we maintain a position of neutrality, which enables us to undertake business with customers in diverse fields.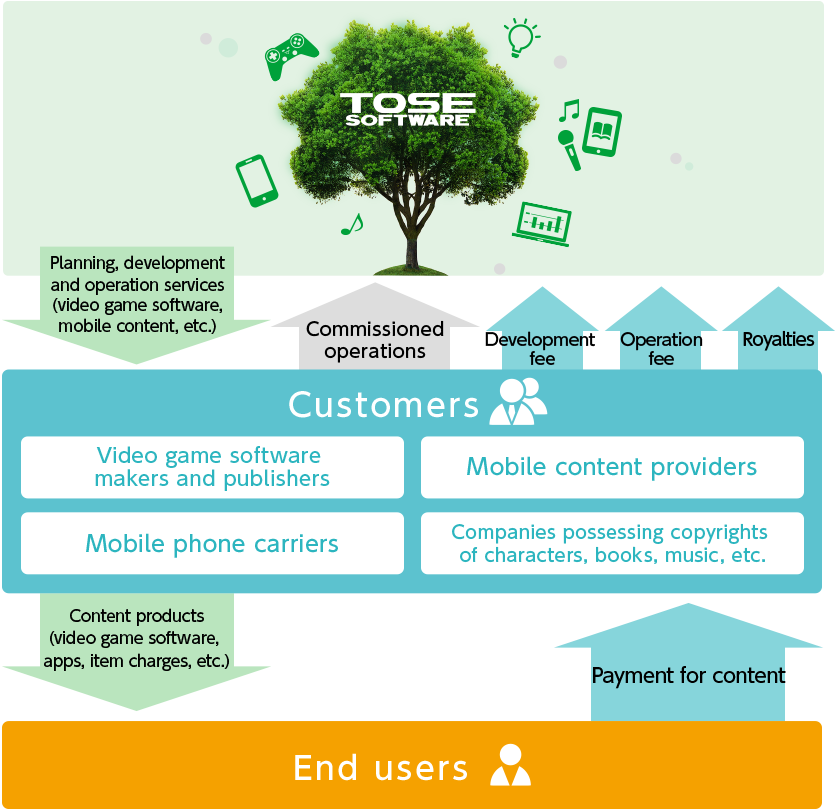 TOSE Boasts Comprehensive Development Capabilities and a Solid Management Foundation Based on a Long Track Record
One of the biggest competitive advantages of TOSE is its ability to offer one-stop services spanning from plan proposals to development and operations of high-quality content regardless of the platform. With a high degree of information-gathering skills, planning/development/operation capabilities and technological prowess to realize this, TOSE leverages its comprehensive development capabilities as a commissioned developer possessing one of Japan's largest development structures and a solid management foundation.
Comprehensive Development Capabilities
Information-gathering skills

Collect useful information thanks to undertaking businesses with customers from various sectors, including the entertainment industry.
Planning/
development/
operation capabilities

Offer one-stop services spanning from proposal planning to development and operations.
Possess industry-leading development achievements and handle content development for any genres and platforms.
Possess a proven track record and extensive know-how in operating video games for SNS, etc.
Technological prowess

Comprehensively possess technological prowess and know-how (multiplatform capabilities, 2D/3D graphic design, sound creation, programming, etc.) required for the development of home video games and smartphone games, etc.
Development scale

Retain largest number of staff among independent commissioned developers.
Boast a multitude of personnel with expertise and skills in diverse fields, which enables TOSE to undertake larger and more sophisticated development projects.
Solid Management Foundation
Financial soundness

Maintain shareholders' equity ratio of more than 80%.
Have achieved profitable operations since TOSE's founding.
Relationship of trust with customers

Have numerous customers with whom TOSE has done business over many years.
Have established a network of customers in diverse business fields.
Make proposals for new businesses in collaboration with customers.