Ensuring Corporate Governance
To ensure strong and effective business promotion based on swift and appropriate management decision-making, Tose regards it as vital to continue enhancing corporate governance by securing management transparency and soundness and by strengthening management oversight functions.
For more information on our corporate governance initiatives and structures, see the Corporate Governance page.
Risk Management Structure
We see risk management as an integral part of daily corporate management, business administration, and execution. For this reason, each section monitors the risks for which it is responsible as part of its regular duties and remains prepared to respond appropriately to such risks at all times. Suspected or actual cases of serious risks are promptly reported to the Representative Director to allow the determination and implementation of timely, appropriate responses.

Outlined below are the roles of sections related to risk management in the corporate governance structure.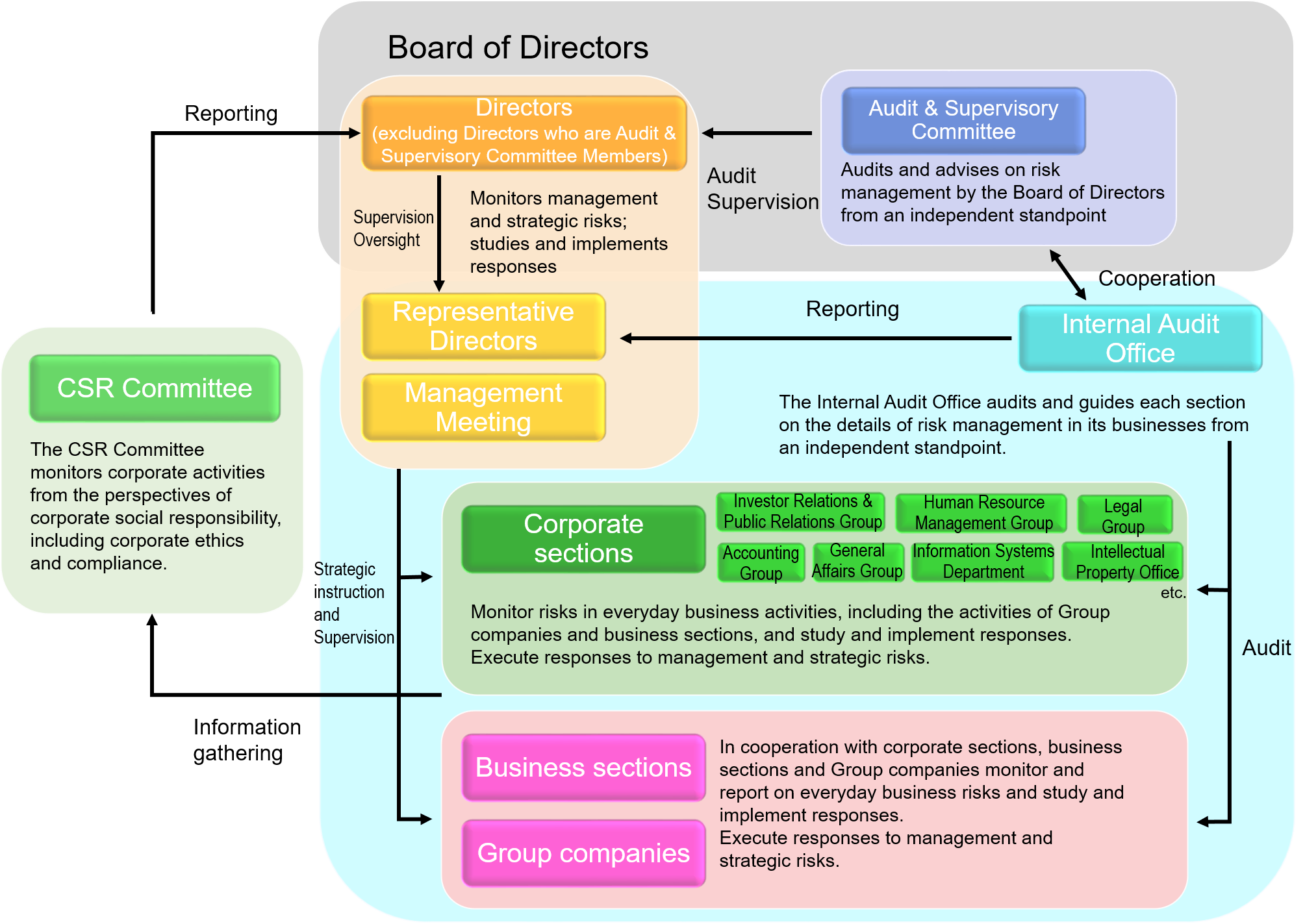 ● Information security measures
Safeguarding personal information and comprehensive and effective control of confidential information concerning customers and business partners is an essential obligation of any enterprise. As a company involved in the information and telecommunications industry, Tose considers it of paramount importance to safeguard information used in business from various threats and to reward the trust placed in us by customers and society. We have established a Basic Information Security Policy and Information Security Standards in order to comprehensively protect and manage information.
・We make every effort to ensure that employees are aware of information control through information security training for new hires and regular e-learning.
・We implement measures against computer security incidents such as cyberattacks, phishing, intrusions, and malware to prevent information leaks.
・Our Information Security Standards specify an information security management structure for systematic control.
・We gather and appropriately retain all personal information in line with separately established policies and management rules.
● Responding to risks related to intellectual property
As an enterprise intrinsically linked with digital content creation, the Tose Group handles intellectual property (IP) with the utmost care. Sections in charge of IP regularly communicate the latest related information within the Group, as well as raise awareness among all employees and keep all such information up to date. We also survey IP rights related to the industry and strive to prevent infringements of rights.
● Responding to emergencies
We have established and publicize throughout the organization response policies and practical activity standards for various emergencies, including major disasters (e.g., earthquakes, storms), pandemics, as well as domestic and international security incidents (e.g., terrorism, civil unrest, war), with such efforts being primarily managed by the corporate sections.
Compliance
To remain an enterprise worthy of society's trust, the Tose Group complies with all laws and regulations, acts in conformity with societal and ethical standards, and firmly eschews all improprieties. To ensure thorough understanding of these policies, the Group has established the Corporate Code of Ethics, which all employees read and pledge to comply with every year.
●
CSR

Committee

Chaired by the Representative Director and Chairman, the CSR Committee monitors the state of compliance with policies, action standards, and compliance requirements established in the Corporate Code of Ethics. We respond to suspected violations swiftly and decisively.
●
TOSE

Hotline Whistle-Blowing System

TOSE has established the TOSE Hotline as an internal whistleblowing system for reporting violations or equivalent behavior of laws, regulation, or internal rules. This system helps to make our self-governance work better and detect violations in the early stages and prevent improper behavior.
The TOSE Hotline also serves as a consulting function for employees experiencing work problems, contributing to realizing an employee-friendly work environment.
● Strictly Complying with the Act against Delay in Payment of Subcontract Proceeds, Etc. to Subcontractors and Other Laws
Tose regards maintaining and strengthening relationships of trust with its business partners through fair transactions as a key component of management, with compliance forming a central pillar to such efforts. We strive to ensure thorough compliance with the Act against Delay in Payment of Subcontract Proceeds, etc. to Subcontractors, and other applicable laws and regulations.